Divya Devaguptapu, a senior disciple of the world-renowned Dhananjayans from Chennai, India, is an internationally acclaimed Bharatanatyam dancer and choreographer.
She is recognized as a highly creative artiste, whose work is deeply rooted in the traditional framework of Bharatanātyam and laced with contemporary thought and metaphors, creating a unique style that is meaningful across global audiences. Her choreography has been critically acclaimed as thought provoking and mature and she is widely known for her sensitive and involved Abhinaya (expression) which one critic has quoted as being "… exceptional than the present day veterans! – The Hindu, 2012". She is also a Carnatic (Indian Classical Music) vocalist and her knowledge of music enhances her dance making her choreography a studied yet instinctive response to melody and rhythm. In addition to traditional Bharatanātyam performances, Divya is exploring the global language of dance in her collaborations with westerns artists, which have included Patricia Rincon, Peter Kalivas and Jacques d' Amboise.
Hailed a child prodigy, she performed her Arangetram (maiden solo performance) at the age of 7, under the tutelage of Kamala Iyengar in Mumbai and continued training under Minal Prabhu before moving to Chennai in 1990 to learn from the world renowned Dhananjayans.
Since then she has toured extensively (USA, Middle-East, Asia) as a soloist over the last two decades with performances at several prestigious festivals and venues including Music Academy Madras, NCPA Mumbai, Kalakshetra Chennai, NDI – New York, Ravi Shankar Foundation – San Diego, The George Harrison Festival – New Delhi, Narada Gana Sabha, Bharat Kalachar, Brahma Gana Sabha in Chennai, India during the famed Margazhi festival, Mingei International Museum – San Diego, Columbus Carnatic Association – Ohio, Soorya Festivals – India, to name a few.
She is a visiting Faculty of Dance at University of California in San Diego, USA. She is also a Teaching artiste with Young Audiences of America and SPIC MACAY, taking art education to schools. She is the Artistic Director of Sannidhi Performing Arts and teaches select dedicated students. She is also the Founder and Artistic Director of Suryakala Foundation, a non-profit trust for the promotion of Classical Arts which aims to ideate, curate and present classical dance & music with continued relevance to today's audiences without tampering with the structure or diluting classicism.
Divya has a Masters in Electrical Engineering and has worked in the Telecommunications industry for several years. However, her strong calling for dance made her give up a career in Engineering to pursue a full-time career in her lifelong passion of Bharatnātyam.
"Divya – Pride of the preceptors"
– The Dhananjayans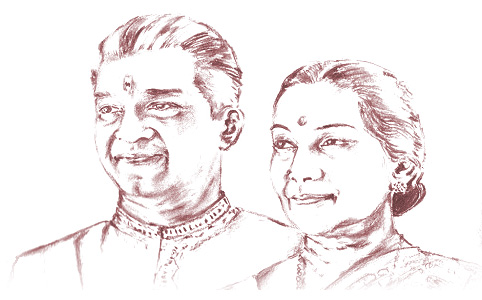 From The Gurus:
Divya is one of our prized disciples who has excelled in the field of Bharata Natyam. Endowed with all essential qualities and qualifications for a Bharata Natyam dancer, Divya has carved a niche in the minds of the classical connoisseurs. A rare phenomena found in Divya is that she excels in her performances and is equally proficient in her imparting. We are very proud of this girl with whom we rest our confidence of continuing and spreading the message of Indian art and cultural heritage, where ever she goes in life. The true art and artistic inheritance is deeply embedded in her and that will keep her Bharata Natyam flag flying aloft.
Performance Highlights
Margazhi Festival Chennai, India – Music Academy, Narada Gana Sabha, Bharat Kalachar, Kartik Fine Arts, Brahma Gana Sabha, Mylapore Fine Arts, Parthasarathy Swami Sabha
George Harrison Festival, Ravi Shankar Center, New Delhi, India
Mingei International Museum, San Diego, USA
Solo Performance tour of USA
Solo Performance tour of Malaysia, Singapore
Performance tour of Qatar and Bahrain
National Center for Performing Arts, Mumbai, India
Kalakshetra Foundation, India
Soorya Festivals, India
Dharini Kalotsav, India
International Iyengar Yoga Convention, USA
Chidambaram Natyanjali Festival, India
National Dance Institute of New York, USA
Apna Utsav, ICCR, India
Doordarshan, Indian Television Network, India